Home | REGISTER | WHATS NEW | WHO WE HELP | SCHOOLS | ABOUT THE FAST | Privacy | Accessibility | Media infomation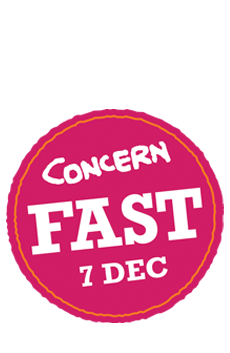 RETURN
MONEY
SPONSOR
AFRIEND
DONATE
FOLLOW US


LOG IN
Not a faster? Sign up
Request new password
WHO WE HELP
3.5 million children die from hunger or hunger-related causes every year. The money you raise as part of the Concern Fast will greatly help those in the world's poorest countries.
The long-term effects of childhood malnutrition can be reduced or reversed if a child receives a balanced diet during the first two years of their lives. This period of time is when our work is most effective.
Abraham's story
The money you raise will help vulnerable children survive and give them the best chance to live full and productive lives as adults. Take a look at the video below to see how we helped Abraham:
Read more about Abraham
Samuel, Chifundo and Lewis
In 2002, Malawi was hit by a severe drought which left many on the brink of starvation. Samuel, Chifundo and Lewis were all suffering from malnutrition but thanks to our nutrition programmes, they are all healthy children now.
Read more about Samuel, Chifundo and Lewis
Claude's story
Not too long ago, Claude was tiny, weak and malnourished. But thanks to Concern Worldwide's health programme in Rwanda, he's now healthy and putting on weight.
Read more about Claude
WHAT IS THE FAST?
Thousands of people and schools around the country will fast for
Please join us to help people, like Ali, who go hungry every day.
Get involved
Find out more
Follow Concern on Twitter
Contact us
HOW MONEY IS SPENT